Following the Rules
February 19, 2012 · 1 Comments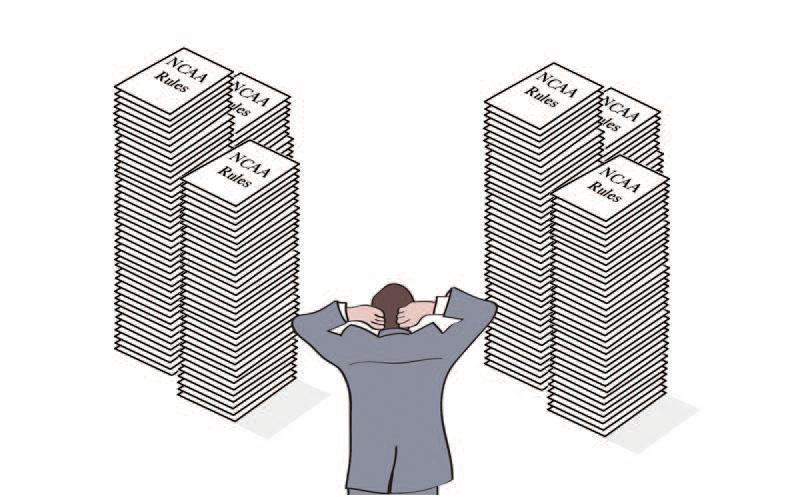 by Cody Norman
Perfection does not exist. Not in the world of intercollegiate athletics, anyway.
There are 342 Division-I basketball programs across the country and, each day, at least one of them is breaking the rules.
"Everyday we're dealing with some­one or something," said Paul Bowden, who has been the Associate Athletic Director for Compliance at Mason since 2006. "Compliance is the center of everything because everything is based on the manual."
Like a fixture, the 412-page manual sits atop Bowden's desk with more than 10 chapters of laws and bylaws enacted by the NCAA over its 64-year existence.
Bylaws are broken down into chapters based on employment, practice times, playing times, booster programs, extra benefits, re­cruiting and eligibility, each of them delving deeper into sport-specific regulations.
"There are so many rules in that book that it's not if you're going to break a rule, it's when you're going to break a rule," Paul Hewitt said. "There are rules broken that you didn't even know were in effect."
Despite a univer­sity's effort to run a flawless program, perfection just does not exist in compliance. Institutions enrolled in the Bowl Championship Series average almost 35 second­ary violations per year while Division-I AAA programs – the category under which Mason falls – average more than 10 secondary violations per year.
"We have a pretty good situation here but we do have our secondary violations," Bowden said. "But, let's be clear, secondary is not a bad word."
Coaches, players and athletic officials meet once a month to discuss any possible mishaps and to maintain an open line of communication under the motto "Don't go at it alone."
"The most important thing is to establish a culture of responsibil­ity," Hewitt said. "Players and coaches both need to understand that they are here to represent Mason on the court in an impeccable manner and off the court in an impeccable manner. This is bigger than them."
Coaches are issued a manual at the beginning of every year, each of the 100-plus amendments highlighted in gray. They are required to take and pass a test in order to begin recruiting. There is an ex­tensive website for compliance available to coaches, athletes and prospects.
But, still, nothing is perfect.
"[Mistakes] happen," Bowden said. "Let's report it to the NCAA, serve our penalty and it's over. You're not on the front page of The Washington Post at that point. If it happens for 18 weeks a season for several years, that's when we've got a problem."
Still, though, Bowden warns that the manual can be very interpre­tive. It is largely up to the university to translate the manual in the way they think will best protect and reflect the university's values.
"My job is to protect the university," Bowden said. "First and fore­most, I am here to protect the integrity of the university that Dr. [Alan] Merten and the board of regents has set down.
"We don't overreact here. And I think that makes for a great atmosphere."