Section 124: Player of the Beard
March 4, 2012 · 2 Comments
by Daniel Zimmet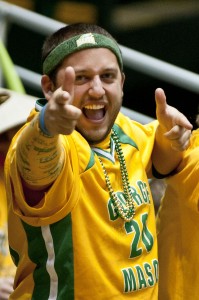 He did it!  After a full season of anticipation Ryan Pearson has finally won the CAA Player of the Year award.  He joined elite Mason alumni Carlos Yates, Kenny Sanders, and three time winner George Evans.  Yates is the all time scoring leader in Mason history, while Sanders sits right behind him in second place.  Evans won the award three years in a row.  There has only been one other CAA player to ever do that.  One of the greatest NBA players in history, David Robinson, is the other.  Yes, his alma mater Navy, used to be in the CAA.   These four Mason players will go down in history as some of the greatest four players to wear the green and gold.
Mason fans always talk about how we should see numbers hanging from the rafters in the Patriot Center, however don't quite know how to pick which players' numbers should be retired  Well here's some good criteria for you all: how about starting with the four guys to win Player of the Year.  If we're not going to retire anyone else's number, at least put those four numbers up there.  There isn't a better way to honor the commitment, success, and dedication of an athlete than retiring their jersey.  In fact, it would look pretty cool hanging right next to that Final Four banner.
There is no need to be worried that Mason only picked up one award this season.  It is the most important and highly acclaimed award.  On the All-CAA First Team Pearson is joined by Kent Bazemore, Bradford Burgess, Franz Massenat, and Keith Rendleman.  Aside from Rendleman, all of the teams that have members of the first team received first round byes in the CAA Tournament.  Massenat was the closest to beating out Pearson.  He received 14 out of 48 votes, while Pearson received 28.
Winning Player of the Year goes far beyond the stat lines.  Pearson averaged 17.6 points and 8.5 rebounds in his memorable senior season.  However, it's the effect a player has on his team that makes him a Player of the Year.  Essentially, remove a player from their respective team that you think should be given the award.  If it seems like the team would fall apart, not function, or just plain struggle that's what qualifies them as Player of the Year.  Without Pearson on the team this year, we wouldn't nearly have had the success that we showed.
Since we successfully accomplished Pearson winning this year, now it's time to start the campaign for a new Mason player to win the 2013 CAA Player of the Year award.