Coming Home
November 30, 2011 · 0 Comments
If anyone decides to write a book about assistant coach Jim Lewis, he has the perfect title: "I Coached Your Momma and Your Daddy, too."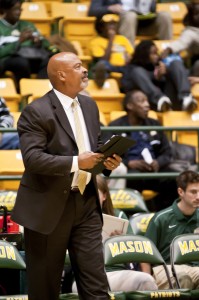 "It's true," Lewis said. "I've started that circle. We're recruiting a couple players whose mothers played for me here at Mason."
Lewis has been coaching for more than 40 years, spending time at nearly every possible rank in women's basketball. He began his career as an assistant at Tennessee State University in 1969 and coached a number of USA Basketball teams, winning three gold medals in three years. He received his first collegiate head coaching position at George Mason University in 1984 and coached the first ever Mason basketball game in the Patriot Center.
"We played even before the men did that night," Lewis recalled.
After compiling a track record of success in Fairfax, Lewis left the collegiate ranks to become the first head coach of the Washington Mystics in 1997. After several more pit stops over the course of 13 seasons, including a stint as the coach at T.C. Williams High School, Lewis reached out to Coach Jeri Porter this offseason in hopes of reuniting with the green and gold.
Hiring Lewis, who is the most winningest coach in the program's history, was a no-brainer for Porter.
"I realize that when I hired Coach Lewis, a lot of people didn't quite get it," Porter said. "They didn't really understand the thought process. But there's no way that, when given the opportunity, you don't hire someone like [Lewis]."
While the state of the university has certainly changed since his departure, many things have remained constant.
With his 201 wins, Lewis is still the most storied coach in Mason women's basketball history. But, if he has it his way, that record won't stand long.
"I hope Coach Porter breaks it," Lewis said. "Actually, I hope she breaks it this year."
Lewis has retained his old school coaching style, as much of the admiration and respect he receives from the women stems from his willingness to help them succeed on the floor. He is a frequent contributor at practice, running the floor and working up a sweat right alongside his players.
"That's the only way I know how to do it," he said. "I'm still a young guy at 64."
Perhaps most telling, a simple mention of his name draws an affirmative reaction from the current players.
"He's just a lot of fun to be around," said sophomore guard Amber Easter. "How can you not smile when you hear his name?"
While Lewis was brought in to work with Mason's current frontcourt, he also serves as a bridge to narrow the gap between past and present Patriots. And, despite being a legend, he has embraced his new role as an assistant coach and is excited for his return to the Mason Nation.
"It's been 14 years and it feels like I left yesterday," he said. "I couldn't be happier to be home."