Losing is Not an Option
December 4, 2011 · 3 Comments
by John Powell
In her junior year of high school, Christine Weithman was sidelined by an ACL injury and missed the entire basketball season. She was on track to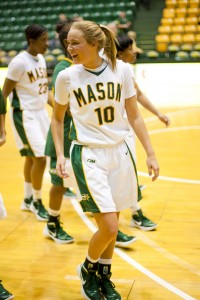 break records at James Hubert Blake High School in Silver Spring, Md. and after promising seasons as an underclassman, the senior came back stronger than ever.
She holds the career scoring mark for Blake with 1,240 points, single-game score with 38 points, and single-season scoring with 593 points.
"It was very thrilling because I actually tore my ACL my junior year and it was hard coming back," Weithman said. "One of the records I broke was I was the first person to get 1,000 points in my school. When I got hurt, I thought I wasn't going to be able to make it."
But clearly the injury was only a stepping-stone to something greater.
While some recruiters may have lost interest after the injury, Mason coach Jeri Porter and her staff did not look at Weithman until her senior year, when it was obvious the injury did not slow the record-breaking pace she was putting together.
"Even as you watched her in high school," Porter said, "you got a sense of how good she could be on this level, because she's a savvy kid."
Blake was a state finalist three years when Weithman was with the team. It was a great experience for everyone involved, but the transition to a program in a rebuild was difficult.
"It sounds weird, but I'm not used to losing," Weithman said. "College was frustrating last year. Being with girls that want the same thing, that are more focused on the overall goal instead of the single goal really helped because everyone's mindset is for the team."
It was all part of a master plan for Mason's head coach. The style needed to change from one of keeping the status quo to making a loss unacceptable.
"As difficult as that is for kids to step into, you have to have that flavor. You have to have those kids that come from programs where losing is just not an option," Porter said. "I do think it's difficult for them to transition from being super-successful on the high-school level to stepping into a program where you're going to take some hits early on."
Even as an underclassman, she has done everything she could to instill the winning attitude, playing hard and putting up points in the process. In her freshman campaign, she set a high single-game scoring mark with 21 points, lasting only until early this year. She went off for 22 points in a blowout win with 15 points from beyond the arc and seven from the free throw line. Her freshman-year high was not a fluke.
"It helps that I'm always working on my shot," Weithman said. "That's my key thing to do. It always helps that at the end of the year, the teams started getting to know me better. Especially the point guards and the other guards, they can find me in the post. They look for me because they know me more now."
Porter has a different reason. Although her work ethic with her shot never stays stagnant, her role in the game has expanded. She went from a shooting-first guard to someone who can see the field a bit better. Scoring opportunities abound when she goes unchecked, and she makes the most of them.
"The reason she's as good as she is," Porter said, "is that she stays within herself. She brings the things that we need her to bring every day."
Porter has high hopes for the sophomore. High-scoring games did not go unnoticed, but her role on the team goes far beyond the 3-point arc.
"Christine is a natural leader. So we want to give her time to evolve into some of the leadership qualities that she naturally has," Porter said. "That's when you know you have the right kind of kids to build your program with, because they're doing great things on and off the court."