Section 124: Credit Where Credit is Due
January 13, 2012 · 2 Comments
by Daniel Zimmet
Si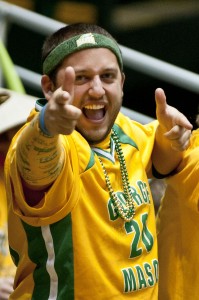 nce returning to the floor, it is hard to dispute that Andre Cornelius has done anything but work his you know what off trying to regain his position as both a player and a leader.
In his first time speaking out about the incident that led to his suspension – on WGMU's The Morning Breakdown – he clearly felt a level of disconnect from the student body, which has got be one of his main support systems. Even without being able to practice for a portion of the preseason, he mentioned that he was able to work with underclassmen point guards Bryon Allen and Corey Edwards from an off-court perspective.
He realized he did wrong and was clearly regretful of his actions but, from the very first day he was eligible to practice, it was obvious that Cornelius's goal was to get back in to that starting role.
Tonight, during the Patriots tough defeat at Drexel, he got that starting gig back. With a struggling Wright on the bench, Cornelius was finally given his opportunity, but Wright shouldn't have a problem getting back into the lineup eventually. Then the question arises regarding who is the odd man out.
Cornelius is considered a top five defender in the CAA on any given day and I definitely saw an instant change in defensive pressure upon his return against Duquesne. Plus, his presence from beyond the arc will continue to add a new dynamic to our inside game. It wasn't a coincidence that in only his third game back, Ryan Pearson scored a career-high in points against the College of Charleston.
Regardless of your personal feelings towards Cornelius, it's hard to say that he's not an essential part to this team. The addition of another senior to any team is beneficial, especially when he's quick, plays hard-nosed defense, scores perimeter points and even picks up some rebounds – which is likely Coach Hewitt's favorite quality about his play.
As long as Cornelius can stay in the lineup, we're going to see a strong defensive difference as well as a stronger outside presence from this Patriot team. Even if the game is ugly, the defensive pressure we can bring with him on the court will undoubtedly allow Mason to climb back into tough games, as well as keep the tempo up to Mason's pace to score more points in transition and run the court to their liking.