Section 124: Pearson for Player of the Year
January 29, 2012 · 0 Comments
by Daniel Zimmet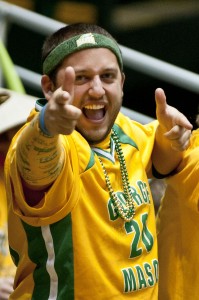 To earn the honor of being named CAA Player of the Year, you need to have stats that stand above the competition and prove your ability to play consistent dominant basketball on a day to day basis.  However, they also need to play a role on their team in which they are an essential key to the team's success.  In other words, similar to Peyton Manning's role with the Colts, if the CAA Player of the Year was removed for their team then that team would struggle significantly.  Mason's start forward Ryan Pearson is not only a leader of this team, but also plays a key role towards this team success.
This season five of the CAA's most elite players we're selected to the Preseason All-CAA first team.  ODU's Bazemore, VCU's Burgess, Drexel's Givens, William & Mary's McDowell, and last but not least our very own Ryan Pearson.  Typically the Player of the Year will come out of the All-CAA first team, and this season Bazemore was selected as the preseason favorite.
Out of that entire group Pearson is hands down the toughest player out on the court.  He will never let anyone out physical him underneath the basket.  If another player is going to get a rebound against him, they are going to have to get physical to get it before him.  This is clearly seen by his stitched up lip after suffering a deep cut against Hofstra.  Pearson has established himself in this conference and amongst other forwards as being a feared powerhouse of a player.  However, when he is on the court his teammates also play better.  Due to his high level of skill, he has the ability to draw double and triple teams of defense.  That automatically leaves two or three of our players' wide open to knock down a shot.  Simply put, he impacts the game each time he's on the court whether he is scoring points or not.
The first thing that needs to be evaluated is what a player's position is in respect to the category that they excel in.  Obviously, all players in consideration need to have the ability to score a lot of points.  A guard is not going to excel in rebounding, but should stand out in assists or steals.  The same goes for forwards.  A big man isn't going to pick up a ton of assists, but will stand out in rebounds and blocks.  Through 10 CAA match-ups, statistically speaking, none of the previous five players are leading the CAA in any individual category (points, rebounds, assists, steals, or blocks).  UNCW's Rendleman, Delaware's Hagins, and ODU's Cooper are the only 3 players are averaging a double double per game.
During CAA play Pearson is averaging 13.4 points per game and 8.5 rebounds per game.  It is clear that when he is in the game, the Patriots play at a different level and their rhythm is almost tailored to his style of play.  His unorthodox left handed approach makes him one of the best in the conference at scoring points.  Putting up 29 points and 15 rebounds the other night against JMU clearly helped his case as well as statistics.  Essentially when Pearson gets hot, we win games.  On the other hand, if Pearson is struggling than other players have to step up and guide the team to victory.  If a player has that much effect of a team's ability to win, then there is no reason they shouldn't win Player of the Year.
As of right now, Pearson cannot only make a case by his own numbers for Player of the Year.