Section 124: Best Chance at a Bid
February 13, 2012 · 2 Comments
by Daniel Zimmet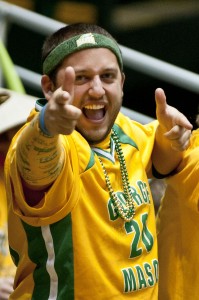 With a win this past Saturday at UNCW, Mason basketball clinched a top-four seed in the CAA Tournament earning an automatic advancement to the second round.  Most likely the other three seeds will consist of VCU, Drexel, and Old Dominion.  Of course I'm hoping for Mason to grab the No. 1 seed, however looking at difficulty of schedules down the stretch we are certainly not on the easy end of the spectrum.  Half of our games from here on out are against VCU.
The easiest schedule at the end of this season is Drexel's.  They are currently sitting on a 13-game winning streak and their remaining conference games include; William & Mary, JMU, and ODU.  Throughout this season they only had to match up with VCU, ODU, and Mason one time.  It is more than likely they are going to win out.
My top-four seeding prediction is Drexel, Mason, VCU, and ODU in that order.  If we are the No. 2 seed we will play the winner of the No. 7 and No. 10 seeds, respectively.  If the season ended right now, that would be a game between Northeastern (who we will already have faced in the second to last game of the season) and William & Mary.  After winning that game we will most likely go on the face the No. 3 seed in the semi-final match up.
The toughest part about the conclusion to our schedule is that we play in Richmond on February 25, and have to go back down there less than a week later for the tournament.  Recently we've played very well in the Siegel Center, however lacked any sort of success in the Coliseum.  I have always been against the CAA games being played in Richmond.  VCU essentially gets all home games for the entire tournament.  All tournament games should be played in a neutral arena.  Luckily, we travel very well both as a team and as fans, just not to the CAA Tournament.
We have one, maybe two ways to get into the NCAA Tournament this season.  The second conference loss to Delaware really hurt our chances to get an at-large bid.  If we win the CAA Tournament, it's simple and we're in.  If we don't win to get an automatic bid, I think our only other option to get in is by first winning the rest of our regular season games.  Without doing that we can easily kiss an at-large bid goodbye.  If we can make it to the championship game and lose to the No. 1 seed then I think we still have an at-large shot.  It would really be helpful for that No. 1 seed to be Drexel because they also picked up an early loss to Delaware in their first conference game of the season.
Essentially, it's very straightforward.  We need to either win the CAA Tournament or make it to the championship and lose to the No. 1 seed.  However, for now let's just take it game by game starting with this week against VCU at home as well as our Bracketbuster against Lamar.